NCIWC is dedicated to promoting the continued well being and preservation of  Irish Wolfhounds by example and education. NCIWC  sponsors many activities for this purpose. The activities range from specialties and matches to beach walks and public events, such as Celtic festivals and parades.
Board meetings are held four times per year. An annual general membership meeting is held in June each year.  Members and guests are invited to attend; however, only board members may vote on business.
---

Upcoming Events!
The 2020 NCIWC Boutique is now open.  Order your "Almost" 2020 Specialty Shirt now featuring the art of Vivian Mainville.
Support your club!
Go to the

Boutique page

on this site to see samples and to order!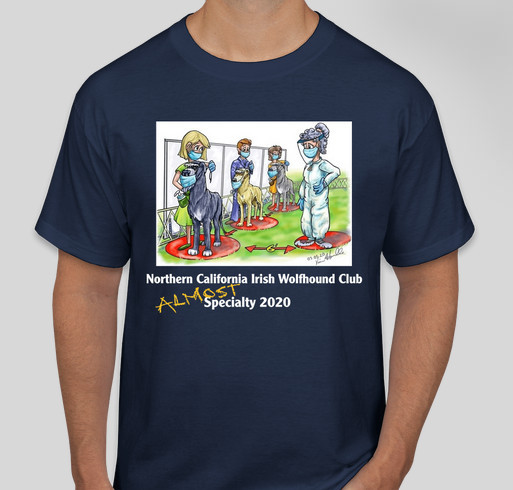 Notice about the 2020 specialty:
At today's quarterly meeting (July 18, 2020) of the Northern California Irish Wolfhound Club Board of Directors, it was decided to cancel this year's Specialty weekend.  This was a very hard and emotional decision, but we all felt it was the correct one.  The  latest word we received from the CEO of the Sonoma-Marin Fairgrounds is, at this time, it is unlikely that our venue would be available in October.  We  realized that as much as we all want to get together to enjoy the hounds and reconnect with each other, we also know that if this were a dog disease, we would not hesitate to keep our dogs away from potential threat.  We owe ourselves and each other at least the same consideration.
Your board is committed to supporting the membership, especially during this difficult time.  We have plans underway for social, fun and educational programs which we can do on line with all of you.  This is your club and we welcome you input.
Lynne Rosebrock,
NCIWC Director & Specialty Chairman

Candid Picture of the Month


Slide show highlighting club activities

_____________________________________________
If you have any comments, ideas, or content for the web page please contact the Web team by Clicking here.